4 tags
GL13 Trip - A Video Overview →
This video doesn't capture the extent of transformation amongst individuals, local partners and Gawang Laya as a whole.  But it captures something… we hope to share that as faithfully as we can.
2 tags
Watch
Gawang Laya 'Tademan' - God's work, not ours
Many things happened during this third GL trip.  Boxes were shattered.  Faith was stretched.  Perspectives were changed.  Preconceptions became misconceptions.  Comfort zones were left behind. Life happened. It has now been over a month since we finished our third Gawang Laya trip.  I wanted to make sure I wrote this post a month later and not during the trip, to reflect deeper and end this...
2 tags
MORE OF YOU
This song was written by Daniel J, Marie & Roni (from the Cebu team) during the trip to share with the rest of the Gawang Laya team.  Who knew so much joy could be found? You wouldn't think it, when you first look around But once you stop and see, their community You'll see there's so much more    Maybe our hands are too full  Maybe our hearts are too hard If we listened...
2 tags
Reflections
Going to the Philippines with Gawang Laya in January 2013 has taught me a lot. I knew I was going to be blessed but I thought that "we" were going to bless others (in the Philippines) more than they will bless us. How egotistical of me. God indeed taught me so many things on this journey, one of them is humility. He showed me that the world consists of many - our global community....
1 tag
We will meet again
Wow, it's crazy how fast 3 years has gone when you learn and experience so much. During those years, I've heard stories that have made me feel overwhelmed, happy and sad aswell as seen lives making me angry, hopeful and blessed. Experiencing God's mission has opened my eyes on how awesome and strong God's love is. It is funny to reflect on who I was on the first trip, a 16 year old boy entering a...
1 tag
A Gawang Laya Journey of a Teenager
I'm writing about this now because I'll probably forget about it. The past 5 weeks have been the best five weeks of my life. Going to the gawang laya awareness trip has made me see a different point of view towards life. It all started last year, 2012.  My mum kept asking me if I wanted to go on this trip. I had no intention of going. Soon, she gave up and forced me. I started...
2 tags
#itsmorefuninthephilippines
 It IS more fun in the Philippines when you're parasailing across the waters of Boracay. It IS more fun in the Philippines when you wake up to the view of the sunrise over the ocean just a few steps from your door. It IS more fun when these "Raybans" only cost $1.50 and this buko shake in hand, 80 cents. It was fun until I mistook a boy child to be a dog. It was fun until my rose-coloured...
Kenosis
On our last night in Cebu, the last night we would all be together, Marbz called us all for one final debrief. We discussed what we disliked most in the past 3 weeks and how that was related to our self-entitlements, such as the lack of communication between each other and how easy it was for us to revert to our western ways of thinking. The latter was something that weighed on my heart,...
Rich heart
What a full on day today as the teams from Luzon, Visayas and Mindanao share their experiences with each other and look toward the future of the Gawang  movement. It was such a massive encouragement to hear about all the amazing things that are happening in the Philippines reminding all of us that God was already at work before we got there. It was even more of a blessing to hear about the...
2 tags
Echoes and aftertastes
I do not want to be far Far from your banana trees, Your motorcycles and wood fire stoves Your fried whole fish and pineapple groves Keep me from forgetting Your wide smile at my arrival Your fanning of the food to keep away the flies Your sleeping on the floor, to give me the bed to lie Keep me close to your neighbours Those others who are more in need To the ones you never close the...
3 tags
Center for Community Transformation
Yesterday the Luzon leg of the Gawang Laya trip came to an end with a CCT debrief and farewell. CCT, Center for Community Transformation brought us to numerous communities throughout our time here filled with stories of hope, love and light. We were exposed to their numerous ministries such as microfinancing, education, feeding programs, church planting and provision of housing for former street...
A Chinese dude in Lorega
When I was sent to Lorega, I didn't know what to expect? All I could think about was the song from Silverchair – Cemetery, how will I communicate whilst being by myself? And thoughts like, 'If I die? I'm going to blame Jung.' In all seriousness, the actual physical environment, socio-cultural environments and the peoples humble life shattered my worldview and blessed me more than I could have ever...
2 tags
CEBU: Urban Engagement
The best way to describe this experience is that it was a life changing one. The large Cebu team was spread out thin amongst the places of Lorega, Canduman, Basak, Cogon- Pardo and Kamagayan; with each place having its own unqiue environment, poverty issues and faith communities. We were priviledged to each have a host family of our own for 3 nights and 4 days. We were shocked by their living...
Provincial Homestay
When the CEBU team was informed about the details of our homestays, I cried on the way to our following Gawang Laya session. Originally, we thought we would be staying with at least one other person from the Cebu team. A couple of days before our homestays we found out that it was just one person… per house…and we were all kind of freaking out. We were praying for God to prepare us but...
...and so it goes on
From life, to memory, to a story. The lives of others have certainly been a theme throughout our experience here in the Philippines as the Luzon Team venture from one CCT community centre to the next. Stories of hope, stories of redemption, stories of new beginnings. It's safe to say that hearing and witnessing transformation in people's lives has lifted our spirits. One can only...
Taytayan
As I organised this third GL trip, I was overwhelmed by the significance of 'bridge-building'– both as a metaphor and a reality.  I knew that paving a way to bridge the misconceptions of Mindanao, and the reality of it, needed to have importance for this third crucial trip, as we make important decisions about Gawang Laya's future.  So as God opened doors, we found the opportunity to not only go...
Mindanao (Ambalgan team)
Today started off with uncomfortable mosquito bites and a fun challenge of a cold bucket shower at our Ambalgan home stay. Whilst the boys went off to the market I went to help out the pre school run by local volunteers. It was a struggle because their first language was Magindanon (Mindanao's local language) so there was little communication but I was was able to observe the similarities...
""Most days, I wished I could wake up under my down comforter in a house..."
– Kisses From Katie: A Story of Relentless Love and Redemption by Katie J. Davis
Hopes. Dreams.
"Let the little children come to me, and do not hinder them, for the Kingdom of God belongs to such as these" Matthew 19: 14 In the last two days the Luzon team has been overwhelming blessed, moved, touched, and changed by what we have seen and experienced. We have cried, laughed, ran, sung, and sweated. Just when we felt drained of all our energy, God revitalised us through the inspirational...
Let Go and Let God
Let go of our anxieties. Let go of our fears. Let go of our control. Let God calm our anxieties. Let God vanquish our fears. Let God be the One in control. Please pray for all of the Gawang Laya teams as they venture into the unknown, as they let go and let God! This is a short blog post since I'm off to my provincial assignment! Excited and scared at the same time! Loving it and...
2 tags
Our First Day
NB: Written on 2 January 2013. We began our journey into Gawang Laya 2013 today. The team gathered in full for the first time at Manila to board a bus (and coaster) to head to Tagaytay. Two years ago the first Gawang Laya trip had the opportunity to visit the CCT Tagatay construction site where a retreat place was being built. On Wednesday the 2nd of January, 30 Gawang Laya team members got...
Jew to the Jew
Today started off with Dr Melba speaking about how Christianity came to be in the Philippines. She also touched on Filipino culture and it's roots, mission in the Philippines and also the importance of contextualisation. We were also blessed to hear about the work of the Micah network and had a chance time listen time to their individual stories.   As we learnt from Dr Melba, Filipinos...
Back to the basics of our faith
Last year at uni I took up a subject called Development Studies, where we learned about different approaches to poverty around the world. Policies focusing on economic growth, debt reduction and basic needs have come and gone since the 50s, each one them falling short of their goals. Each approach was faced with the large challenge of improving living conditions and reducing the insurmountable...
Mabuhay!
After a four hour flight from Sydney to Darwin, a New Years Eve party in the airport and another four hour flight from Darwin to Manila, the capital city of the Philippines greeted us with a sleepy hello. The streets were quiet and empty. The shops were closed. From what my Filipino friends and Gawang Laya veterans have told me, this is far from the usual bustle and busyness of the city. ...
2 tags
Ready or not, here we go
A couple of days left… The nerves are building A couple of days left… Till we go to the Philippines A couple of days left… Till the journey begins A couple of days left… What am I doing?? Worried…about all the little things Like what to take and what to bring, What to wear and blah blah blah I think…I'm missing…the bigger picture This is...
1 tag
We are coming!
Years ago, Compassion Australia set up a walk-through tent through which individuals could take a visual and aural journey through simulations of Africa, Asia or South America. That year, I chose the Asia walk, which followed a young girl as she was sold to sexual slavery. It completely shattered me. Something else, however, made a deeper impact on me. At the end of that Compassion walk was a...
Preparing…
     In the lead up to this trip I was quite nervous, anxious and excited all at the same time. I naturally like to pre prepare and worry about things so my mind has been everywhere during the last couple of months. It is my very first "Mission Trip" and it took me a while to make a final decision about leaving my comfort zone even for just a minuscule amount of time. Since this trip is my first...
5 tags
Mustard Seeds
Just last week we held our "Call & Response" nights. The same event ran for two nights, yet each night had a slightly different vibe to it. Friday night was packed with youths from different youth groups and Saturday's audience were…the young…at heart hehe. The purpose of these two nights were to raise funds and awareness. Across both nights around $2000 was...
YOUniverse
We have learned so much in the short time (4 weeks) we had, in this second trip of Gawang Laya.  Each person, of the 18 people team, will never be the same again by the things we have seen and the challenging lessons we are still digesting.  There may be a physical poverty that exists in Philippines but we have a purpose poverty in our very home, Australia. Our world is consumed by me, myself and...
B'laan Tribe Visit
On the last day of the mission trip, we travelled a few hours out of Gen. San to the Sarangani province, to the traditional home of the B'laan tribal group.  As I entered the tribe, my (largely western) pre-conceptions of traditional headdresses and chanting were overthrown by a modern Filipino community that was devoted to God. We greeted each other through song and like my other experiences with...
Many Tribes
In the scheme of human history, the idea of a 'country' is a recent invention.  The idea of a 'nation/empire' is a little older – but the concept of a 'tribe' is ancient.  Apart from the basic individual and family aspects of identity, being part of a tribe (ethnic/people group) is an important communal aspect of being a human being.  A tribe has a layer of community factors – like an onion, it...
A Christ Centred Heart
On the Monday the twelfth of December the Gawang Laya team visited the Microfinance division of the Centre for Community Transformation (CCT) in Tagum, Davao. The microfinance division showed great focus on god throughout their work and work practice. We were warmly greeted by Pastor Peter and his team there at CCT. We then observed the CCT centre and CCT school for children next door to the...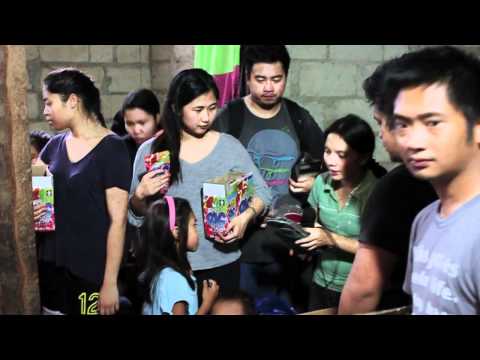 IJM Visit
On Wednesday some of the group were able to visit the office of International Justice Mission. IJM is a human rights agency that seeks and secures justice for victims of violent oppression. Lawyers and investigator work with the local government to assist in the rescue of victims and the prosecution of trafficking offenders. They are driven by Jesus with a passion for justice.  I was really...
The true meaning of community
Today we stepped out of the walls of Cebu City Alliance Church, and into the community of Cebu. The first place we visited was the community at Cubacub, Canduman where we started the day with a worship service at their church. It was very encouraging seeing the members of the church lead us in worship with such passion, and you could tell that for them they weren't just singing words but they...
Walk this way...
(Walking through a slum community built on a cemetery in Lorega) It has been nearly a week since our Intramuros Tour with Carlos Celdran, where he pointedly phrased 'WALK THIS WAY!'  He used this as a metaphor of the nature of the walking tour, but also an invitation to walk through time – through the bittersweet Philippine history. These last two days, however, we have gone through a different...
Greater things are yet to come
Today was the last day of the Seminar which was run by Dr Emo. We started off the day looking at the parable of the of the Good Samaritan. Transposing the Parable, Dr Emo engaged us all by speaking of people being 'broken' who were in need of a 'homecoming' where healing takes place. He explained that we were all once 'broken' and have been cared for by someone...
The Unscripted Moments
Day two of the ISACC cross cultural workshop saw us take in the topic of "Understanding Integral Mission". Dr Melba Maggay and her team taught us more about contextualisation of the Gospel into different cultures different from our own, which for us in the Gawang Laya team was rather applicable since we are here in Philippines. Being armed with these theoretical tools will help us be...
Day 1 - ISACC & CCAC
Today was the first full day of a 3 day seminar which was led by ISACC (institute of studies in Asia church and culture) and hosted by CCAC (Cebu City Alliance Church). The Gawang Laya Team and I woke up early, to get ready for a busy day full of learning and meeting new people. The day started with breakfast at our hotel called Golden Valley Hotel. It was there we walked to CCAC. During the walk,...
Watch
Where does a story begin?
Today we were escorted back in time by one Carlos Celdran – an eccentric and animated tour guide who equally educated and entertained us through the landmarks and streets of Intramuros. This was my first experience of Philippine history, specifically the chronological journey of the city of the Manila to its present state. The tour commenced in Fort Santiago, where the Philippine national hero...
History Comes Alive
Today, were were fortunate enough to be a part of a tour of Intramuros, conducted by the world famous tour guide, Carlos Celdran. Ever since the Gawang Laya trip last year, I've grown to be particularly interested and intrigued at the rich and dense history of the country of my birth; and in understanding and discovering the different events, people, tragedies and cultures that have shaped;...
The beautiful song :)
As Therese has mentioned, today was our first full day here in the Philippines. The first thing on our itinerary was to visit a few familiar faces at the head office of CCT, an organisation that the Gawang Laya team worked closely with last year. It was a joy to witness the warmth they welcomed us with. I saw excited "Hi's" and "Hello's" as everyone exchanged...